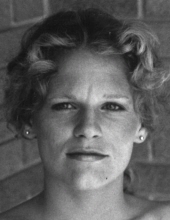 Jackie Jean Gardner, 61, of Brazil passed away Wednesday, July 29. 2020 in her residence. She was born in Brazil on March 12, 1959 to Tom McCullough and Joanne (Reedy) Kelly.
Jackie attended Brazil High School and was a courier Unites States Postal Service and Pony Express. She liked to read, listen to music and cook. She also enjoyed making crafts and painting.
She was preceded in death by her parents, Tom McCullough and Joanne Kelly.
Survivors include her son, Gregory Vanes; a daughter, Dominique Gibson and husband, Josh; grandchildren, Zackery Calandrilla, Tiffany Vanes, Levi Gibson and Addison Gibson; brothers, Jim, Tom, Joe McCullough and Mark Patterson; sisters, Kelly Patterson Tyler, Ginger Patterson Fritz and Molly McCullough; her step-mother, Karen McCullough and many nieces and nephews.
A Celebration of Life will be scheduled for a later date. Arrangements are under the direction of French Funeral Home, 421 E. National Ave., Brazil. To light a candle in her memory, visit: www.frenchfuneralhome.com.
To send flowers to the family of Jackie Jean Gardner please visit the Tribute Store.