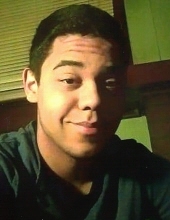 Christopher Douglas Walker, 22, passed away Wednesday, July 29, 2020 at his home in Terre Haute. He was born January 29, 1998 to Melissa Ann Van Ness and Niel Douglas Walker.
Christopher is survived by his grandmother, Rita Walker; brother, Jonathan Walker; aunt Susan Fort (Eric); great-great-aunt, Helen Simpson; first-cousins, Joshua Maxwell, Daniel Maxwell, and Michael Maxwell II; a close friend, Brandon McCullough; and a host of close friends and relatives.
Christopher was a graduate of Terre Haute South class of 2017. He attended Full Gospel church. He was a martial artist.
Services will be held Tuesday, August 4 at 2:00 pm at Callahan & Hughes Funeral Home with Pastor Tim McCullough officiating and burial to follow at Lost Creek Baptist Church Cemetery (Stewart Lawn). Visitation will be held at the funeral home from 1:00 pm until services begin.
In lieu of flowers please consider a donation to Riley Children's Hospital, 705 Riley Hospital Dr, Indianapolis, IN 46202. Arrangements are under direction of Callahan & Hughes Funeral Home.
To send flowers in memory of Christopher Douglas Walker, visit the Tribute Store.