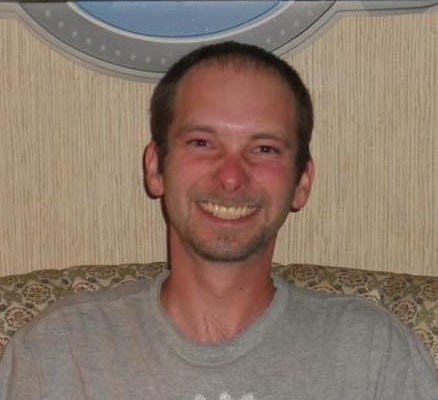 John Raoul "J.R." David, 37, of Terre Haute, passed away after a long battle with Type 1 diabetes and end stage renal failure on Thursday, July 30, 2020 at his home. He was born on April 14, 1983, in Terre Haute to Raoul and Dawn (Dennis) David.
J.R. is survived by and will be greatly missed by his parents; sister, Maria David; many family members and friends; and last, but not least, his beloved Doberman, Adebisi. He was preceded in death by his grandparents, John "Jack" and Joan Dennis.
An adventurous spirit with a zest for life, J.R. enjoyed traveling abroad with his cousin and best friend, Jim Tanoos. One of his favorite places to visit was Prague. He was looking forward to his next European trip with Jim after he received a new kidney. J.R. enjoyed being with people and was very social. He was a regular at Cackleberries and often ate his breakfast and lunch there daily. He was a member of St. George Orthodox Church and a member of ATO Fraternity.
Services will be private with Father Paul Fuller officiating. J.R. will be laid to rest in Roselawn Memorial Park. Honorary pallbearers will be Wesley Burris and Marcellus Collier. In lieu of flowers, memorial contributions may be made to Honey Creek Animal Hospital or the Terre Haute Humane Society. Fond memories and expressions of sympathy may be shared with J.R.'s family at www.roselawnfuneralhome.net