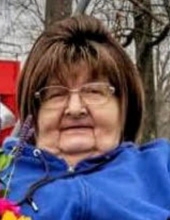 Rebecca F. Klass, 77, of Brazil, Indiana, passed away at Exceptional Living Center, of Brazil, on August 9, 2020.
Rebecca was born on August 1, 1943, in Greene County, Indiana, the daughter of Russell Henry and Bertha I. (Britton) Null. Rebecca worked in packaging for General Housewares for several years.
Rebecca married Clovis Klass who preceded her in death. She had attended the Bloomfield United Methodist Church, was a devoted Christian, and enjoyed reading her Bible.
Rebecca was preceded in death by her husband Clovis; and her siblings: Chuck, John, Dale, Gayle, and MarryLee.
Rebecca is survived by 4 children: Bill and Becky Klass, Joe and Sara Keller, Dean and Cheryl Klass and Edith Shepherd; 4 grandchildren; and a brother Joe and a host of other family members.
Visitation will be Wednesday, August 12, 2020 from 11am until 1pm. Services will follow at 1:00pm with Pastor Tom Roeschlein officiating.
Visit www.frenchfunerahome.com to light a candle in her memory.
To send flowers to the family of Rebecca F. Klass please visit our Tribute Store.