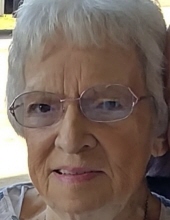 Rose "Rosie" Marie Criss, 86, of Reelsville, IN, passed away on Thursday, September 17, 2020 in her residence. She was born on December 3, 1933 in Clay County, Indiana to Basil Ellis and Enid (Brush) Ellis.
Rosie was a 1952 graduate of Blackhawk High School. On September 18, 1954 she married the love of her life, Walter Criss. She was a 30-year member of the Reelsville United Methodist Church. Besides being a home maker, Rosie was a sales clerk at Montgomery-Wards and The JC Penny's stores in Terre Haute. She enjoyed sewing, planting flowers, praying, reading her bible and spending time with her family, especially her grand and great-grandchildren.
Rosie was preceded in death by her parents, Basil and Enid Ellis; her loving husband of 49 years, Walter Criss; sisters, Gene Pounds, Doris Crandell, (Dan); brother, Max Ellis (Charlotte); brother-in-law, Jim Campbell; and a grandson-in-law, Wade Driggers.
Survivors include her daughters, Tena Snapp and husband, Mark of Shepardsville, Carla Eller and husband, John of Terre Haute; and a son, Tony Criss and wife, Becky of Reelsville; grandchildren, Sarah Gadberry, (Aaron), Stephaine Driggers, James Snapp III, Andy Snapp, Matthew Eller, (Katie), Megan Miller, (Austin) and Nathan Criss; great-grandchildren, Ian Gadberry, Hannah Gadberry, Dane Driggers and Dawson Miller; sister, Linda Campbell; brother-in-law, Vernon Pounds; and several nieces and nephews.
Funeral services will be conducted on 2pm Sunday, September 20, 2020 at French Funeral Home, 421 E. National Ave., Brazil with Pastors William Best and Mark Strahm officiating. Burial will be in Boone-Hutcheson Cemetery. Visitation is scheduled from 12:00pm to 2:00pm Sunday in the funeral home.