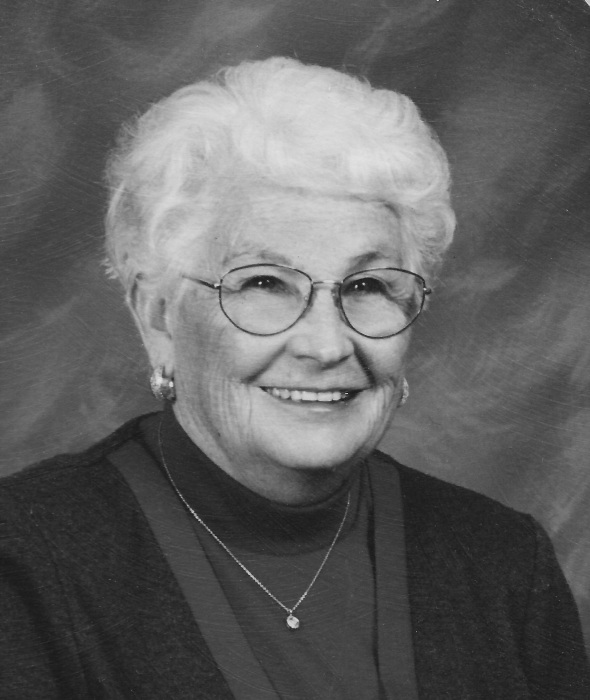 Betty Jane Marrs passed away November 30, 2020 at Cobblestone Crossing Health Campus, Terre Haute, IN. She was the wife of George Raymond Marrs and daughter of Cy and Lottie Taylor. She was 89 years old. Betty was preceded in death by her husband, parents, and brothers: Harry, Ken, and Duke Taylor, and one sister Virginia Bell.
Betty was born in Shirkieville, Indiana and spent her childhood with family and friends watching her beloved brothers Harry, Ken, and Duke Taylor playing baseball. After graduation from Fayette High School she worked as a salesperson for Roots Department Store in Terre Haute and later as a typist for Donnelly Printing Company.
In 1949, Betty married her high school sweetheart George Raymond Marrs. Betty and George raised their six children on dairy farms in Riley and Bowling Green, IN. They were founding members of the West Central Indiana Holstein Association, and she served as secretary/treasurer for many years.
Active in 4-H over the course of six children, she served as the assistant 4-H leader and was a member of the Vigo County 4-H Council for many years. After moving to Bowling Green, Indiana she continued to work with the local 4-H groups and served on the Clay County Fair Board.
In 1973, they moved to Bowling Green, IN and Betty attended St. Mary of the Woods College and earned her dietitian certificate. She then worked at the Patricksburg grade school until her retirement. Betty was an active member of St Jude the Apostle Catholic Church, Spencer, IN. For many years, her beautiful smile greeted parishioners on Sunday morning. An avid crafts person, she was known for her beautiful floral arrangements, wreathes, and Christmas crafts that she sold locally and at the Covered Bridge Festival. Her creativity shined especially during Christmas when she donated to the annual church bazaar. Betty was a member of the Marion Township Homemakers Club and enjoyed her monthly euchre games with her church group.
She is survived by her children: Peggy Walters, Bowling Green, IN; Mike (Jacque) Marrs,
Norman, OK; Pat (Dianna) Marrs, Cory, IN; Linda Marrs-Morford, Austin, TX; Paul (Tammie)
Marrs, Johnson City, TX; and Janie (Russell) Rabb, Llano, TX.
Surviving Grandchildren: Chris (Tracie) Walters, Gastonia, NC; Dale (Samantha) Marrs and daughter Savannah, Clay City, IN; Chrystal Marrs, St Petersburg, FL; Michael Morford, Austin, TX; Mathew (Andrea) Marrs, Hopkins, MI; Andrew Marrs, Cory, IN; Lea (Darren) Hackey and son Avett, Billings, MT; Chris (Marissa) Marrs, Dallas, TX; Josh Marrs, Norman, OK; Preston Rabb and Layton Rabb from Llano, TX. Jamie (Chip) Rogers and children: Evan (Macy), Indianapolis, IN; Ethan, Emily, and Elliot, of Cory, IN; David (Linda) Sands, Spencer, IN and children John Sands, New Orleans, LA; Jacob Sands, Portland, Oregon; Jaran (William) Hazelton, Hope Mills, NC; Derek Annon, Terre Haute, IN; and Callie Annon, Terre Haute, IN; and Jill (Shane) Wiram and children Bryce & Braydon of Cory, IN.
Betty was a woman of strength, determination, and character whose love made an impact on us all. She will truly be missed. A mass and celebration of her life will be held at a later date when her friends and family will be able to attend. She will be interred at Highland Lawn Cemetery Terre Haute, IN. Memorial donations may be made to St. Jude's the Apostle Catholic Church or the Owen County Humane Shelter, Spencer, IN. Arrangements are under the direction of Fitzpatrick Funeral Home, 220 North 3rd St., West Terre Haute, IN.
Online condolences can be left at: www.fitzpatrickfunerals.com
To send flowers to the family or plant a tree in memory of Betty Jane (Taylor) Marrs, please visit our floral store.