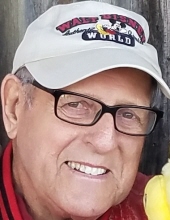 Robert E. Lee, 83, of Brazil, Indiana and formerly of Bridgeton Indiana, passed away on January 9, 2021 following a battle with Lung Cancer.
Bob was born on May 24, 1937, in Parke County, Indiana, the son of Charles and Mary Pearl (Hansel) Lee. He graduated from Bridgeton High School with the class of 1955. He attended Indiana Business College before being drafted into the United States Army during Vietnam.
As a civilian he worked for General Motors, at plant 10, for more than 30 years. He also farmed on his families farm in Bridgeton. Being an avid sports and racing fan, Bob worked at Indianapolis Motor Speedway for several years.
Bob was an outdoorsman and loved mushroom hunting, squirrel and rabbit hunting, fishing, and camping. He also enjoyed IU Basketball and NASCAR – GO Gordon!. Most of all he enjoyed spending time with his family.
He was preceded in death by his parents Charles and Mary (Hansel) Lee; 7 siblings: Forest Lee, Virgil Lee, Charles "Jr." Lee, Rhoama Tallman, Leatha Andrews, Sara Narin, and Deloris Davis; a step-son Tony Trout.
Survivors include his wife Sandra (King) Lee whom he married on July 6, 1973; a daughter Carmen Lee Coker and husband Terry of Terre Haute; step-sons: Darrell Trout of Bridgeton, Indiana and Chris Trout and wife Tonya of Brazil; grandchildren: D.W. Trout, Heather Trout, Matthew Trout, Cameron Trout and wife Sydney, Delaney Trout, and Sophie Coker; a sister Mary Lee of Harmony as well as many nieces, nephews, and extended family members and friends.
Visitation will be at French Funeral Home, 421 E. National Ave. Brazil, Indiana, on Friday, January 15, 2021, from 11am until 1:00pm. Services will follow at 1:00pm with Pastor Gordon Manion officiating. Burial will follow at Clear Run Cemetery, in Bridgeton.
In lieu of flowers, donations may be made to the Hospice of the Wabash Valley 400 8th Ave, Terre Haute, IN 47804.
Visit www.frenchfuneralhome.com to light a candle in his memory.