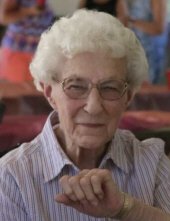 Mary Ellen Schmidt Targett, 101, passed away Sunday, September 18, 2022 at her residence surrounded by her family. Mary was born to the late Fred and Barbara (Tiefel) Schmidt on September 16, 1921 in Clay City.
Mary was a 1939 graduate of Clay City High School. She was a proud lifelong Clay City Eel supporter. In 1944, Mary married the love of her life, Donald Targett who preceded her in death in 2004. Together, Mary and Don attended First Presbyterian Church in Clay City and later attended the First Brethren Church in Clay City. Both Mary and Don were very involved in the Presbyterian Church. In Mary's younger days, she enjoyed playing softball. She loved Sable Border Collies raising several throughout her life. She was a breast cancer survivor, and was a mentor to other local women who fought breast cancer. Mary enjoyed gardening and canning, and in her younger days she enjoyed baking and making homemade ice cream. Later in life, she enjoyed attending her grandchildren and great grandchildren's events and especially going out to eat with anyone that would ask.
Mary was a member of the Clay City VFW Post 6606 Women's Auxiliary, as well as a post member and member of the Women's Auxiliary at the Clay City American Legion Post 0225. Mary loved her country, even packing rations for the veterans.
Mary is preceded in death by her husband, Donald Targett, her parents Fred and Barbara Schmidt, her siblings, Jean Harbaugh, Virginia Salter, and Fred Schmidt, one nephew, Marvin Harbaugh, and one grandson in law, Tony Hayden.
Mary is survived by her children, Sue Nowak (Ray), Donna Ream (Jim), Nancy Apple (Steve), and Mike Targett (Darlene), nine grandchildren, Doug Ream (Annette), Brian Ream (Shelly), Tim Ream, Debbie Hayden, Jamie Smith (Kirk), Jason Apple (Stephanie), Chad Apple, Christopher Targett (Sharayah), and Shelby Hofmann (Dylan), as well as 18 great grandchildren.
A visitation will be held Thursday, September 22nd from 4-8 P.M. at Schoppenhorst Funeral Home, 301 East Eighth Street in Clay City. A funeral service, officiated by Pastor Ray Deeter will begin at 1 P.M. on Friday September 23rd at the funeral home. Friends and family may visit from 11 A.M. until the time of service on Friday.
In lieu of flowers donations may be made to Clay City Sports Boosters, 601 Lankford Street in Clay City, American Cancer Society, P.O. Box 6704 Hagerstown, MD 21741, or Disabled American Veterans P.O. Box 14301, Cincinnati, Ohio, 45250.