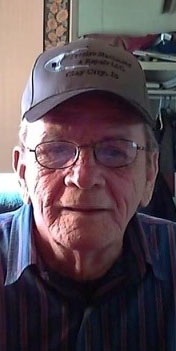 John J. "Jack" Hensley, 80 of West Terre Haute, passed away on Tuesday, November 21, 2022 in IU Health University Hospital. He was born in Terre Haute on January 31, 1942 to John F. Hensley and Dorothy Williams Hensley.
Jack was an U.S. Air force veteran, and retired from the Indiana Department of Natural Resources, and prior to that worked at Highland Lawn Cemetery, and the Murdock Coal Mine in Illinois. His memberships include life member of the West Terre Haute VFW Post # 6606, life member of the Paris, IL American Legion Post # 211, life member of the Marine Corps League, the Murdoch Racing Club, and was a former member of the West Terre Haute Young Men's Club. He loved fishing on the river, and if you knew Jack, you knew he was a jokester and a prankster.
Jack is survived by two sons, John C. Hensley (Debbie) and Paul A. Hensley (Valerie), and a daughter, Tracy Hubbard, as well as eight grandchildren; Ryan Michael, Brandon Hensley, Nick Vazquez, Leslie Hensley, Erika Fisher, Sara Wood, Miranda Knight, and Hannah Hensley, as well as several great grandchildren, and nieces and nephews. He was preceded in death by his parents, as well as his brother, David L. Hensley, and his sister, Shirley Stevens.
Graveside services will be held at Pleasant View Cemetery on Saturday, November 26, 2022 at 11:00 AM, with military honors provided by the Vigo County Honor Guard. Burial will follow in Pleasant View Cemetery. Arrangements are under the direction of Fitzpatrick Funeral Home, 220 North 3rd St., West Terre Haute, IN.
Online condolences can be left at: www.fitzpatrickfunerals.com
To send flowers to the family or plant a tree in memory of John J. "Jack" Hensley, please visit our floral store.