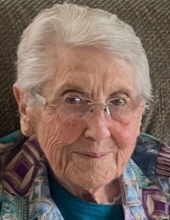 Alta Mae Edwards, 94, of Clay City, Indiana, met her Lord and Savior on Sunday, January 22, 2023, at her home. She was surrounded by her family when she met Jesus.
Alta was born on April 12, 1928, to Cash and Myrtle (Dalton) Hyatt in Clay County. She graduated from Clay City High School in 1946. On April 6, 1947, Alta married the love of her life, John Pape Edwards. They were happily married for 67 years. After marrying John, Alta worked at the Edwards Grocery, in Clay City, with him. She then drove a school bus for Clay Community Schools for over 30 years. In her spare time, she helped on the family farm, delivering hot meals, driving tractors, and moving equipment. The farm is still in operation today.
She was very active in her community. She was a member of the "21 Club" and also the Clay City Quilters Club. She was a member of the First United Church of Christ in Clay City. She also enjoyed putting out a large garden every year. She loved bonfires with hotdogs and Smores.
She was tender, kind, grateful, giving, loving, caring, and most of all faithful. She was faithful in all that she believed. She was a farmer's wife, a mother, a cook, a cleaner, a healer, and a fixer of all things. She was the best grandmother, great-grandmother and great-great-grandmother. She never stopped from sunrise to sundown.
Alta was preceded in death by her husband, John Edwards; brothers: Alfred Hyatt, Forest Hyatt, John Hyatt; sisters: Evelyn Stoops, Thelma Stevenson and Mary Wilson – Krauchi.
Alta is survived by her son Richard (Judy) Edwards, daughter Donna (Sam) Ridenhour, son Joe (Arvana) Edwards; grandchildren: Karen Jaconetty, Stacie (Marion) Fowler, Michelle (Chris) McNeill, Tyson (Heidi) Edwards, Kevin (Jennifer) Edwards, Adam (Jennifer) Edwards, John (Kaylee) Edwards, Preston (Jessica) Edwards; 31 great-grandchildren; 2 great-great-grandchildren (with one on the way) as well as many extended family members and friends.
Visitation will be at Schoppenhorst Funeral Home, 301 East Eighth St., Clay City, Indiana 47841, on Tuesday, February 7, 2023, from 4-8 PM. Services will be held, on Wednesday, February 8, 2023, at 11:00 AM at the First United Church of Christ 6414 County Rd 300 East, Clay City, IN 47841. Burial will follow at Maple Grove Cemetery.
In lieu of flowers, donations may be made to Southern Care Hospice 4624 S Springhill Junction St, Terre Haute, IN 47802 or St. Peter's Cemetery Association c/o Henry Buell 4394 W. Co. Rd. 750 South Lewis, Indiana 47858.
Visit www.schoppenhorstfuneralhome.com to share a candle in her memory.